How to Become a Registered Nurse (RN)
12 Min Read
Published September 26, 2023
There are a lot of things you need to consider when becoming a nurse: Which degree should you get? Which license? What type of nurse should you become? Why do you want to be a nurse?
It can be pretty overwhelming. That's why we've put together this guide covering everything you need to know about how to become a nurse.
Ready to get started? Just keep reading, or jump to the section that interests you most using the links below: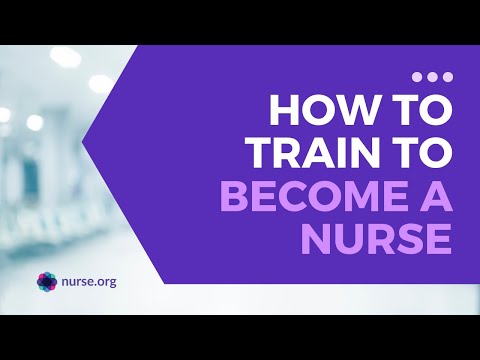 How to Become a Nurse
How to become a nurse will vary based on what kind of nurse you want to become and where you are on your healthcare journey. If you're brand new to nursing and the medical field, you'll have a longer road ahead than someone who's already practicing as an RN, but wants to advance their education. 
Wherever you are on your path, here are the basic steps you'll need to take to become a nurse. For more specific routes for each type and level of nursing, keep scrolling.
Steps to Becoming a Nurse
Step 1.  Attend an Accredited Nursing Program
Whatever route you choose - be it CNA, LPN, ADN, BSN, or anything else - you want to make sure your program is accredited. If you don't go with an accredited program, it can impact your job prospects and your ability to transfer your credits down the road.
>> Related: Top Online Nursing Programs for Non-Nurses
Step 2: Become Licensed 
You've got your degree, but you're not done yet. Now you need to prove your competency by passing an exam to earn your license. For registered nurses, this will be the NCLEX-RN, but each nursing career type will have its own licensing exam and state certification requirements. 
Step 3: Earn Additional Certifications
If you want to specialize in a certain area of nursing, you'll want to earn additional certifications in that area.
Step 4: Continue Your Nursing Education Journey
As a nurse, your education never really stops. You'll be required to keep up with your Continuing Education Units (CEUs) each year. Additionally, for nurses, salary is closely linked to your level of education. So, if you want to earn more down the road, you may want to go back to school for your BSN, MSN, DNP, or more. 
How to Become Every Type of Nurse
The first step in becoming a nurse is nursing school. But it's not that simple. You need to choose a program (CNA, LPN, ADN, BSN) figure out what prerequisites and other requirements you need for that program, determine how to pay for school, and oh so much more. 
When it comes to nursing school, there are a LOT of options available, but which is right for you will depend on your overall career goals, your financial situation, and a number of other factors. Here are the different nursing programs available. 
Certified Nursing Assistant (CNA)
A certified nursing assistant, or CNA, helps patients with activities of daily living and other healthcare needs under the direct supervision of a registered nurse (RN) or licensed practical nurse (LPN). CNA's are also commonly referred to as a nursing assistants, patient care assistants (PCA), or nurse aides. 
This is a good option for individuals that need to work during school, want to get healthcare experience for their application (some nursing programs make having your CNA a requirement), or determine which aspect of nursing is the best fit. 
Education: State-approved education program that includes both instruction on the principles of nursing and supervised clinical work.

Program Length: 4-12 weeks

Salary: $36,220 per year per the BLS
LPN
An LPN is responsible for providing patients with essential care, which includes helping them to eat, dress, bathe, etc. They also assist registered nurses and doctors in keeping detailed records, maintaining clear communication between the entire care team, and working with patients and their families.
This degree is good for individuals that were waitlisted to a nursing program, did not get into an accredited nursing program, need to work throughout nursing school, or do not have the ability to pay for a nursing program. 
Education: LPN/LVN program + NCLEX-PN completion

Program Length: 2-3 years

Salary: $54,620 per year via BLS
RN via an ADN
An Associate Degree in Nursing, or ADN, is one of the two main types of registered nurse programs, the other being a Bachelor of Science in Nursing. There are a number of differences between the two programs. Here's what you need to know about earning your ADN.
Who is an ADN Right For?
Some of the primary reasons aspiring nurses choose an ADN program are:
It's a lot more affordable (often available at community and technical colleges)
It's faster (2 yrs vs 4 yrs)
You can complete your ADN while working
It's good for individuals with families or busy lifestyles
Many nurses earn their ADN first so they can start working fast and save money on their degree, and then get their BSN paid for by their employing hospital later on.
RN via a BSN
Considered the gold standard for nursing degrees, a BSN degree is the other main degree for becoming a registered nurse. A BSN can typically be completed in three to four years and you'll find them at a traditional university.
Who Is a BSN Right For?
Earning a BSN does have many benefits over the other aforementioned nursing options, including:
BSNs often get hired over other types of nurses, particularly at Magnet hospitals that may only hire BSN-prepared nurses
Expanded knowledge. BSN programs are 2 years longer than ADN programs and you'll learn leadership and management skills that you won't get in an ADN program.
There are more career opportunities for BSN-prepared nurses
BSNs are a prerequisite for graduate programs and APRN roles. So, if you know that you want to go on to become an APRN or earn your Master of Science in Nursing (MSN) or Doctorate, a BSN may be the right move.
RN With a Bachelor's in Another Field
If you already have a bachelor's degree in another field and want to become a registered nurse, there's a special degree for you called the Accelerated Bachelor of Science in Nursing (ABSN) degree program.
Depending on the program structure and intensity, accelerated programs range from 12 months to 19 months, though some can be as long as 2 years.
Choosing a Nursing Speciality
During nursing school, students get to experience working in some different nursing specialties, but definitely not all of them. This can make it difficult for new nurses to pick a specialty when applying for nursing positions. 
It's important to take each clinical rotation and specialty into consideration. Give each rotation an opportunity and a fair shot. But consider if you can see yourself in that specialty. Is this a specialty that will fulfill you and challenge you? 
No one can decide what specialty of nursing you should go into but remember your goals. For example:
If you are interested in becoming a certified nurse-midwife then you will need obstetrics experience. 
If you are interested in becoming a certified registered nurse anesthetist you will need either adult intensive care nursing or pediatric intensive care nursing. 
And because the ICU is difficult for new graduates to enter directly upon graduation, some hospitals will want you to work on a medical-surgical floor first. 
Nursing Specialties for New Graduates
Different specialties for new graduates include:
Ambulatory care
Cardiac care
Dermatology
Diabetes
Emergency room
Genetics
Geriatrics
Home health
Hospice
Medical-surgical 
Metabolic
Neurology
Newborn
Occupational health
Operating room
Orthopedics
Pulmonology
Wound care 
Advancing Your Nursing Education
Becoming a nurse is often just the first step. Many nurses go on to continue their education. Here are some of the ways you can advance your education as a nurse:
RN to BSN Programs
If you're already a registered nurse with an Associate's Degree in Nursing, you don't have to start all over to get your bachelor's degree. You can take the skills and experience you already have, and use them in an accelerated RN-to-BSN program. 
An RN-to-BSN program is typically shorter than a standard BSN and it can be completed online! Learn more about RN-to-BSN programs here. 
Master of Science in Nursing (MSN)
For nurses who want to pursue graduate work to advance their careers, a Master of Science in Nursing degree offers options and opportunities in the clinical realm, education, informatics, and in administration. 
This is a basic advanced degree in nursing and most specialize in a specific field of nursing. Here's a list of all the types of master's degrees in nursing. 
>> Show Me Online MSN Programs
Doctor of Nursing Practice (DNP)
Doctors of Nursing Practice (DNP) deliver high-quality advanced nursing care in a clinical setting. A DNP is a terminal degree for advanced practice nurses.
DNP graduates are leaders in advanced nursing practice that bring evidence-based knowledge into the clinical setting to help improve healthcare outcomes and strengthen the leadership role of nurses in both the clinical and academic settings.
In 2021, on average NPs make an annual salary of $120,680, according to the U.S. Bureau of Labor Statistics; interestingly, there is minimal concrete data on the average annual salary of a DNP.
Healthcare salary trends suspect DNPs average $125,000 to $150,000 per year. The U.S. Bureau of Labor Statistics has very limited data on DNP salaries but the reported average is $135,830. 
Why Should You Become a Nurse?
There are sooo many good reasons to become a nurse. Many feel called to the profession because they're natural caregivers. Others had a nurse in their life who influenced them, and some people are just looking for a career where they can feel good about what they are doing and make a difference.
Beyond the emotional reasons for wanting to get into nursing, there are also some more practical ones.
Nurses are in High Demand!
Nursing is one of the most in-demand professions. According to the U.S. Bureau of Labor and Statistics (BLS), employment of registered nurses is projected to grow 6% in the next decade, which is significantly faster than the growth for most other professions. 
Nurses Make Good Money
According to the BLS, the median salary for registered nurses in the United States is $81,220 per year or $39.05 per hour. This will vary depending on the environment you're working in, your location, your experience, your education, and your specific expertise.
There Are So Many Different Types of Nurses
There is truly something for everyone when it comes to nursing. Check out this list of all the types of nurses to learn about all the different options out there.
FAQs About Nursing
How many years does it take to study to become a nurse?

Generally, it takes between two and four years to become a nurse depending on the type of program. Second-degree nurses can graduate in as early as 14 months from the start of the program, while traditional undergraduate students can complete a nursing degree in four years. 

What is the job outlook for nurses?

Nursing is one of the most in-demand jobs. Employment of registered nurses is projected to grow 6% from 2022 to 2032, faster than the average for all occupations according to the U.S. Bureau of Labor Statistics. According to the BLS, about 177,400  openings for registered nurses are projected each year over the next decade.

What are the most popular nursing specialties?

The most popular nursing specialties include maternity, neonatal intensive care nursing, cardiac catheterization lab, pediatrics, and post-anesthesia care nursing. 

Where do nurses work?

Nurses most commonly work in a hospital setting; however, the work location possibilities are endless. Other common work locations are outpatient offices, surgery centers, academia, nursing care facilities, and home healthcare services. More unique work locations include on a cruise ship, camp nurse, NASCAR nurse, as well as these other non-traditional work locations. 
$70,000 - $90,000
Diploma
Associate
Bachelors
Bedside
RN