Family nurse practitioners (FNPs) are advanced practice registered nurses (APRNs) with specialized graduate educations who provide primary health care services to people of all ages.
With a focus on health promotion and health education, Family Nurse Practitioners fill a crucial role in the health care system. They provide patient care to individuals and families with diverse backgrounds throughout their lifespans. 
Part One What is a Family Nurse Practitioner?
FNPs provide services for individuals and families throughout their lifespans. This can be especially rewarding for those who enjoy developing long-term relationships and getting to know people over time. FNPs can have rewarding careers professionally, personally, and financially. 
Being a Family Nurse Practitioner is all about delivering family-focused care. That means that they'll care for patients ranging from infants to the elderly and every age in between.
Part Two What Do Family Nurse Practitioners Do?
The healthcare services that an FNP provides are multifaceted and always patient-facing. In addition to treating illness and injuries, it also offers the opportunity to teach people about healthy lifestyle habits and disease prevention.
FNPs are frequently the primary care provider for families, which means that they will not only diagnose conditions, but also treat them. 
What do family nurse practitioners do? FNP duties include: 
Assessment and diagnosis of health conditions
Conducting routine physicals
Developing and carrying out treatment plans for acute and chronic illnesses
Providing primary health care with an emphasis on preventative care
Prescribing medications and other therapies
Ordering and interpreting lab and other diagnostic tests
Assisting in minor surgeries
Making appropriate referrals when needed
FNPs must be able to work independently as well as able to collaborate with others on the healthcare team. Having strong communication skills and an empathetic nature are also helpful characteristics.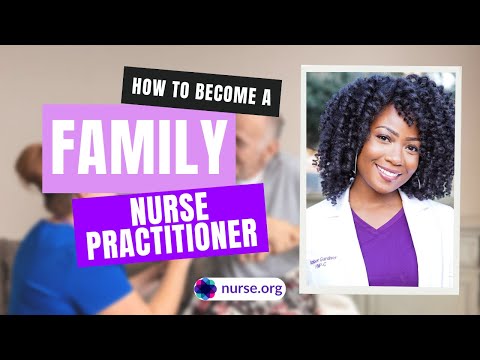 Part Three Family Nurse Practitioner Salary
APRNscommand higher salaries than registered nurses, and this holds true for family nurse practitioners. According to salary.com, the average family nurse practitioner salary as of May 2023, is $121,230 but the range typically falls between $112,490 and $131,700.
The Bureau of Labor Statistics (BLS) reports that in 2022, the median annual income for nurse practitioners was $121,610 per year.
FNPs should think about many employment factors, such as local cost of living and total benefits package (health and dental insurance, retirement benefits, educational benefits, and others). Search for positions in the location where you want to work to find out more about the specific FNP salary ranges in your area.
Nurse practitioners who wish to set up a lucrative private practice will need to evaluate the local market, obtain professional advice from their accountant and legal professional, and create a solid business plan.
Highest Paying States for Family Nurse Practitioners
The BLS reports that in 2022 the highest paying states for nurse practitioners were:
California - $158,130 per year
New Jersey - $143,250
Massachusetts - $138,700
Oregon - $136,250
Nevada - $136,230
Highest Paying Cities for Family Nurse Practitioners
The BLS also reported that the top five metropolitan areas for nurse practitioner pay were:
San Jose-Sunnyvale-Santa Clara, CA  - $199,630
San Francisco-Oakland-Hayward, CA - $190,070
Napa, CA - $189,190
Vallejo-Fairfield, CA  - $180,990
New York-Newark-Jersey City, NY-NJ-PA  - $170,320
Part Four How to Become a Family Nurse Practitioner
Becoming a Family Nurse Practitioner requires a commitment of time and resources, taking 8 to 10 years for many nurses, but it is an investment in your future that will reward you in many different ways. Though the path to becoming an FNP can vary depending upon whether you choose to pursue your degree full time or part-time, in person or online, for most people the journey will follow these steps:
Earn your Bachelor of Science in Nursing – 4-5 years
Get licensed as a Registered Nurse 
Gain invaluable clinical experience working as a Registered Nurse – 2-3 years
Obtain your Master's Degree in Nursing or your Doctor of Nursing Practice (DNP)– 2-3 years through an accredited Family Nurse Practitioner program.
Become certified as an FNP by passing the certification exam from either the American Nurses' Credentialing Center (ANCC) or the American Academy of Nurse Practitioners (AANP). Depending on which certification board you go through, you'll earn either the FNP-BC certification or the FNP-C certification.
STEP ONE: Become an RN
To become a nurse, your first step is to pursue a four-year bachelor's degree program accredited by the American Association of Colleges of Nursing (AACN) or the Commission on Collegiate Nursing Education (CCNE)). Though some nurses choose to become a nurse by earning a two-year Associate Degree in Nursing (ADN), it is important to know that the AACN recognizes the BSN as the minimum educational requirement for professional nursing practice. For more information on becoming an RN, see our RN Career Guide. And for more information on getting your bachelor's degree in nursing, check out our BSN degree guide.
STEP TWO: Get Licensed as a Registered Nurse
In order to get your RN license, you need to pass the  NCLEX (National Council Licensure Examination). The NCLEX is a nationwide examination for the licensing of nurses in the United States and Canada.
STEP THREE: Gain RN Experience
Most nurses work for a few years, gaining valuable experience in providing care for patients. For those interested in becoming an FNP, this is the time where you can gain exposure to a diverse range of patients, and focus on becoming familiar with cradle-to-grave care.
STEP FOUR: Earn Your MSN or DNP
Both Master's and Doctorate degree Family Nurse Practitioner programs are available through accredited colleges and universities.
Most offer both full-time and part-time degree programs, and many offer the option of taking classes in traditional campus settings or online. 
One important aspect to know is that the AACN is aiming to transition all entry-level Nurse Practitioner (NP) education to the Doctor of Nursing Practice (DNP) degree by the year 2025 - however, it is uncertain  when that may actually occur.
Most offer both full-time and part-time degree programs, and many offer the option of taking classes in traditional campus settings or online. Nusing programs that prepare you for the FNP role will include courses in the following:
FNP Coursework
Advanced Clinical Diagnosis and Practice across the Lifespan 
Advanced Health Assessment
Advanced Pathophysiology
Advanced Pharmacology
Differential Diagnosis and Primary Care
Epidemiology
Leadership and Role of the Advanced Practice Nurse
Population Health
Primary Care of Childbearing and Practicum
Research
Programs will include both classroom didactic learning and hands-on patient clinical learning.
STEP FIVE: Become Certified in Family Practice
In order to become a certified Family Nurse Practitioner, you need to become certified by earning either your FNP-C or FNP-BC certification. Your state board of nursing may have a preference, so it is a good idea to check with them beforehand. The FNP-BC examination is offered by the ANCC while the FNP-C examination is offered by the American Academy of Nurse Practitioners Certification Board (AANPC).
FNP Certification Requirements
FNP certification exams are conducted online. No matter which you take, you must have:
A current, active RN license in a state or territory of the U.S. or the equivalent in another country
A Master's, postgraduate, or doctoral degree from an FNP program accredited by the CCNE or the ACEN
At least 500 faculty-supervised clinical hours and completion of comprehensive graduate-level courses in advanced physiology/ pathophysiology, advanced health assessment, and advanced pharmacology
FNP Recertification
Recertification is required every five years. You are also required to maintain an active RN license with your state board of nursing according to its requirements for practice and continuing education.
Our Continuing Education Guide can provide information regarding each state's requirements for renewing RN licensure. 
Regarding FNP recertification, your certifying organization has specific requirements for renewal, so be sure you're on top of those, as well as prepared to pay any fees. Both the ANCC and AANP require a certain number of clinical practice hours and CE credits. 
Part Five Top Family Nurse Practitioner Programs
For a listing of programs nationally, check the listing provided on the American Association of Nurse Practitioners (AANP)website, searchable by state.
If you're searching for top-ranked nursing master's programs, check out this list of the top family nurse practitioner programs. Here are the top 5 results: 
 Keep in mind that there are many accredited schools of nursing that can help you meet your career goals to become a family nurse practitioner. Looking for a more flexible option to become an FNP? Check out this list of the top online family nurse practitioner programs!
Part Six Day in the Life of a Family Nurse Practitioner
Therole of an FNP is very similar to that of a primary care physician.
They will generally begin their day reviewing their patient schedule, making time for emergent situations.

They generally see three or more patients an hour, reviewing charts beforehand and, upon meeting with patients, diagnosing conditions, conducting well-patient exams, prescribing medications and making referrals to specialists where appropriate.

Most will try to spend a portion of each appointment having a one-on-one conversation with their patients so that they can establish a strong rapport. 
Part Seven Where Can a Family Nurse Practitioner Work?
Family nurse practitioners are recognized for their ability to work both collaboratively and independently. As a result, those who have earned this APRN degree are able to find career opportunities in a variety of settings, including:
Academia
Clinics
Community health centers 
Correctional facilities
Government sector
Home health care
Hospice centers
Hospitals
Long-term care facilities
Nurse-managed health centers
Outpatient care centers
Private offices/private practice
Urgent care centers
Notably, because nurse practitioners are able to work autonomously in most states throughout the country, they have been able to fill the significant gap in care available to patients in rural areas. 
Part Eight What Are The Continuing Education Requirements For Family Nurse Practitioners?
Clinical practice and continuing education requirements for renewing a nursing license, certification, and advanced practice certification vary by state and credentialing body. Check with your state board and credentialing agency for the rules on keeping your RN license and certification(s) up to date. You can also visit our CE Guide for details. 
Part Nine Where Can I Learn More About Family Nurse Practitioners?
If you are interested in learning more about becoming an FNP, check out these organizations, 
Additionally, Nurse.org is an invaluable resource. The articles listed below will provide you with answers to many of your questions about becoming a Family Nurse Practitioner:
Part Ten What is the Career Outlook for Family Nurse Practitioners?
The BLS predicts that there will be a 38% increase from 2022 - 2032. Unfortunately, the BLS doesn't differentiate between FNPs and other types of NPs.
With baby boomer nurses nearing retirement, there will be a demand for new nurses to enter the profession. The growing health needs of our aging population also contribute to the need for more advanced practice nurses. Advanced practice nurses such as FNPs provide a cost-effective avenue for providing high-quality health services to more people, including underserved segments of the population.
Part Eleven Family Nurse Practitioner Jobs
There are many sources to get you started in your search for family nurse practitioner positions, including our own job board. Check the "Careers" pages of websites for hospitals and agencies that interest you. Many online resources are also useful in job searching, including:
Nursing social media sites

Career sites

Websites of professional organizations, and

Dedicated nursing career sites
Use your professional network to find out where the good employers are, and to talk to a seasoned entrepreneur about the potential for setting up a private practice.
Part Twelve Other Nurse Practitioner Specialties
Part Thirteen Family Nurse Practitioner FAQs
What's the difference between FNP vs NP?

The difference between FNPs versus other Nurse Practitioner specialties is that Family Nurse Practitioners have a wider focus, as they treat people of all ages. Other NP specialties like Pediatric NPs or Orthopedic NPs have much narrower scopes.

Can a Family Nurse Practitioner (FNP) work in a hospital?

Yes! FNPs can work in a variety of settings, including hospitals, due to their ability to work both collaboratively and independently.

Can a Family Nurse Practitioner (FNP) write prescriptions?

Yes! FNPS and Nurse Practitioners of all specialties can prescribe medications, though the degree of independence in prescribing medications varies by their level of authority in each state. For example, in 21 states NPs have full-practice authority where they don't need oversight from a physician, whereas in others where they have either reduced-practice or restricted-practice authority, requiring differing levels of supervision.

Can FNPs Specialize?

Yes! FNPs have the ability to work in a variety of subspecialties. These can include things like cardiology, dermatology, oncology, surgery, etc. They can do this a few different ways: Finding mentors in specialty areas while they are in school, choosing a program that offers subspecialty options, specialty Nurse Practitioner fellowships and residencies
$100,000+
Masters
Family
Doctorate
Bedside
NP