How to Become an Emergency Nurse Practitioner
12 Min Read
Published September 26, 2023
Though it is hard to imagine, just sixty years ago emergency rooms only existed to provide care for true emergencies and were staffed by doctors and nurses who were willing to fill in the hours on an as-needed basis. That's a far cry from today's E.R. where advanced practice registered nurses assess, diagnose, and treat the wide range of conditions that patients of all ages present during a visit to the emergency room.
In many states, emergency nurse practitioners can work autonomously, without oversight from physicians. Their specialized training enables them to quickly assess and respond to each patient's physical condition as well as the environmental or emotional factors that may be contributing to it. 
If you thrive in a fast-paced environment and think that becoming an emergency nurse practitioner might be a good career choice for you, this guide should help you decide whether to move forward.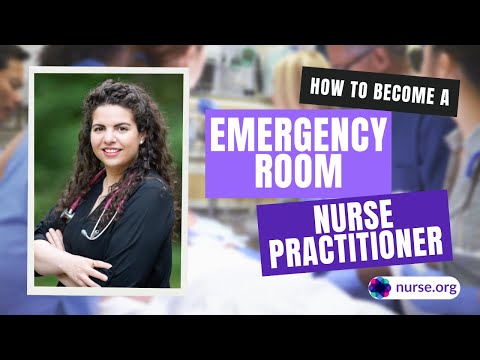 What is an Emergency Nurse Practitioner?
Emergency care describes the urgent treatment of the unforeseen, and emergency nurse practitioners are an invaluable member of the team that provides that care. 
Emergency Nurse Practitioners are licensed Registered Nurses who have pursued specialized advanced degrees that allow them to assess, diagnose and manage urgent injuries and illnesses that need immediate attention. 
Their training prepares them for treating the young and the old, those who are generally healthy and those who are chronically ill. They are able to work with or without supervision, determining which patients need the most immediate care, making decisions about treatment, monitoring patient conditions and providing education and consultation about what is needed in the current moment and what care should be sought in the future. 
Emergency Nurse Practitioner Salary
Emergency nurse practitioners possess highly valuable skills, and as a result, their compensation is among the highest in nursing. According to Salary.com, the median annual salary for an Emergency Nurse Practitioner in the United States is $125,659, with the average compensation ranging from a low of $115,212 to a high of $139,745. 
The Bureau of Labor Statistics (BLS) reports that in 2022, the median annual income for nurse practitioners was  $121,610 per year, with the lower 10% of NPs earning $91,250 or less and the upper 10% of NPs earning $208,080 or more.
Highest Paying States for Emergency Nurse Practitioners
The BLS reports that in 2022 the highest paying states for nurse practitioners were:
California - $158,130
New Jersey - $143,250
Massachusetts - $138,700
Oregon - $136,250
Nevada - $136,230
Highest Paying Cities for Emergency Nurse Practitioners
The BLS also reported that the top five metropolitan areas for nurse practitioner pay were:
New York-Newark-Jersey City, NY-NJ-PA- $170,320
Los Angeles-Long Beach-Anaheim, CA- $ 149,110
Chicago-Naperville-Elgin, IL-IN-WI - $126,020
Miami-Fort Lauderdale-West Palm Beach, FL - $101,870
Boston-Cambridge-Nashua, MA-NH - $141,120
Emergency Nurse Practitioner Salary Factors
The compensation varies based upon variables such as education and certifications earned, years of experience, geographic location, and the strength of references. It is also enhanced by perks and benefits, which can include overtime pay, shift differentials, reimbursement for childcare and tuition, as well as health, dental, and vision insurance and paid sick leave and time off.
How Do You Become an Emergency Nurse Practitioner?
Emergency Nurse Practitioners are highly dedicated professionals whose work and quick responses save lives each and every day, so it's no wonder that becoming one requires a significant commitment of time. Here are the steps you'll need to take in order to become one.
2 -5 years to earn an ADN or BSN
Pass NCLEX-RN exam
2 years working in an acute care setting 
2-4 years to earn an MSN or DNP and become an Advanced Practice Nurse/Emergency Nurse Practitioner 
>>Related: Nurse Practitioner: MSN vs. DNP
Step 1: Become a Registered Nurse
The first step to becoming an emergency nurse practitioner is to become a registered nurse. You can do this through either an ADN or BSN program, and then passing the NCLEX. For more information on becoming an RN, see our RN Career Guide. And for more information on getting your bachelor's degree in nursing, check out our BSN degree guide.
Nurses who earn their Associates Degree in Nursing will need to either supplement their education and earn their BSN before progressing to an MSN program, or go through an accelerated RN to NP program. 
Step 2: Get Licensed as a Registered Nurse
In order to get your license as a Registered Nurse, you need to pass the RN licensing exam known as the NCLEX (National Council Licensure Examination). The NCLEX is a nationwide examination for the licensing of nurses in the United States and Canada.
Step 3: Gain Experience
Gaining experience in a critical care setting such as an Emergency Department or Intensive Care Unit (ICU) will provide invaluable experience and exposure to the most common aspects of patient care in an emergent setting.
Step 4: Earn Your MSN or DNP 
In order to become emergency nurse practitioners or any other kind of nurse practitioner, nurses will need to earn either an MSN or DNP. 
For a deep dive into deciding between an MSN or DNP, check out this article. But in general, an MSN degree is geared towards nurses who are looking to specialize clinically, while a DNP is geared towards nurses looking for leadership positions. There's also been the talk of changing the requirements for Advanced Practice Registered Nurses from an MSN to a DNP, so if you're planning your education advancement further into the future, definitely keep that in mind. 
Most offer both full-time and part-time degree programs, and many offer the option of taking classes in traditional campus settings or online. Most offer both full-time and part-time degree programs, and many offer the option of taking classes in traditional campus settings or online. Nursing programs that prepare you for the this role will include courses in the following:
Coursework
Advanced Clinical Diagnosis and Practice across the Lifespan 
Advanced Health Assessment
Advanced Pathophysiology
Advanced Pharmacology
Differential Diagnosis and Primary Care
Epidemiology
Leadership and Role of the Advanced Practice Nurse
Population Health
Primary Care of Childbearing and Practicum
Research
Programs will include both classroom didactic learning and hands-on patient clinical learning.
Step 5: Get Certified 
Most Nurse Practitioner programs offer specialized tracks that focus on providing the experience and knowledge needed to work in emergency care. Those that do prepare their graduates for the certification tests that confirm their competence in the skills essential to working in an emergency department or trauma center, including Basic Life Support (BLS), Advanced Cardiac Life Support (ACLS), Pediatric Advanced Life Support (PALS) and Neonatal Advanced Life Support (NALS). They also prepare their graduates to be credentialed as an Emergency Nurse Practitioner-Board Certified credential (ENP-BC) by the American Nurses Credentialing Center (ANCC). 
This credentialing process relies upon submission of a portfolio of work rather than on taking and passing a certification exam. Additionally, family nurse practitioners who want to earn their Emergency Nurse Practitioner certification can do so by taking an exam offered by the American Association of Nurse Practitioners Certifying Board (AANPCB). The exam reflects knowledge specific to emergency care, and once passed confers the credential of Emergency Nurse Practitioner-Certified.
Show Me Nurse Practitioner Programs
What do Emergency Nurse Practitioners Do?
Emergency Nurse Practitioners play an integral role in the delivery of care to patients of all ages, physical conditions, and economic statuses. Those serving large populations of uninsured patients often provide services in lieu of family or general practitioners while also providing injury and trauma care and treating unexpected illnesses and conditions that are both acute and chronic. Their duties include:
Assessing, diagnosing and managing episodic illnesses and injuries, as well as chronic illness flare-ups and symptoms.
Treating patients with less urgent conditions who have no other source of medical care
Resuscitating patients
Prioritizing and triaging patients
Making medical decisions
Monitoring and evaluating patients
Providing appropriate consultation and education
Coordinating transfer of care
Ordering and interpreting diagnostic studies
Prescribing medication and therapies
Working collaboratively with other members of the health care team
Advocating for patients
Participating in public health emergency preparedness and response
What is the Career Outlook for Emergency Nurse Practitioners?
Amidst the continued national nursing shortage, emergency departments are at the top of the list for having the most critical and enduring need for highly skilled nursing professionals.
The BLS predicts that there will be a 38% increase in the need for nurse practitioners through 2032. There is expected to be 123,600 jobs annually that need to be filled by qualified NPs. Unfortunately, the BLS doesn't differentiate between Emergency Room NPs and other types of NPs. 
The growing demand for emergency room services has made emergency advanced practice nurses even more valuable. This is particularly true in rural communities where the national physician shortage has left many towns without a doctor to provide this essential function and has opened opportunities for emergency nurse practitioners to establish themselves as local leaders in urgent care.
What are the Continuing Education Requirements for Emergency Nurse Practitioners?
Emergency Nurse Practitioners need to be recertified every 5 years. In order to do so they have two options:
Perform a minimum of 1,000 emergency care clinical practice hours and 100 emergency-related continued education requirements within 5 years of certification
Take and pass the ENP certification examination before their current certification expires.
Where Can I Learn More About Becoming an Emergency Nurse Practitioner?
Emergency Nurse Practitioners are unique individuals who work well in high-pressure environments. For more information about the characteristics that serve Emergency Nurse Practitioners best, as well as more helpful information about this highly respected career choice, the professional organizations listed below provide excellent resources:
You can also find helpful articles on the Nurse.org including these:
Show Me Nurse Practitioner Programs
Other Nurse Practitioner Specialties
Emergency NP FAQs
What is an emergency nurse practitioner?

An emergency nurse practitioner is part of the health care team that provides patient care within an emergency setting such as an emergency room, an ambulance, a trauma center, or an urgent care center.

How long does it take to become an emergency nurse practitioner?

It generally takes between six and eight years. The first step is earning either your Associate's Degree in Nursing (ADN) which takes around 2 years, or your Bachelor of Science in Nursing (BSN), which takes four years. If you earned your BSN, you can go directly into your nurse practitioner degree, which takes between two and four years. If you earned your ADN, you can either go back and earn your BSN, or do an accelerated RN-NP program. Some nurse practitioner programs require candidates to spend a certain amount of time working in a clinical setting before accepting candidates to their program, and this can add to the overall time that it takes.

How do you become an emergency nurse practitioner?

To become an emergency nurse practitioner, you need to start by becoming a registered nurse and then passing the NCLEX-RN test to get licensed in your state. Following that, most nurses work in a clinical setting, and preferably in an acute care setting for at least two years before enrolling in an advanced nursing program to become an emergency nurse practitioner.  If you choose an advanced-degree program with a specific emergency focus, you will be certified when you graduate based upon the portfolio of care experiences that you have built during the educational journey.

What does an emergency nurse practitioner do?

Emergency nurse practitioners have wide-ranging roles within the emergency setting. Their duties can include assessment and diagnosis of patients; triaging patients; treating symptoms and responding to emergency needs such as suturing or intubating; prescribing medications; ordering diagnostic tests; discharging patients; educating patients about their symptoms and self-care and referring patients to specialists.

How much does an emergency nurse practitioner make?

According to Salary.com, emergency nurse practitioners in the United States earn an average annual salary of $125,659.
If you thrive in a high-pressure environment where you are constantly called on to make quick decisions, then becoming an Emergency Nurse Practitioner may be the right career for you.
$100,000+
Emergency
Masters
Doctorate
Bedside
NP