How to Become a Critical Care Nurse
9 Min Read
Published September 20, 2023
Critical care nurses work with patients who are facing life-threatening or potentially life-threatening issues. These vulnerable patients are generally found in hospital intensive care units and step-down units, trauma units and emergency rooms, and surgery centers and recovery rooms, though critical care nurses may also work in other settings. No matter where they work, critical care nurses rely upon their knowledge and training to help acutely ill patients.
A career as a critical care nurse offers the ability to work with either a wide range of patients or with patients suffering a specific type of condition such as those found in cardiac care units or neonatal intensive care. If you are considering becoming a critical care nurse, this guide will answer many of your preliminary questions about this rewarding career.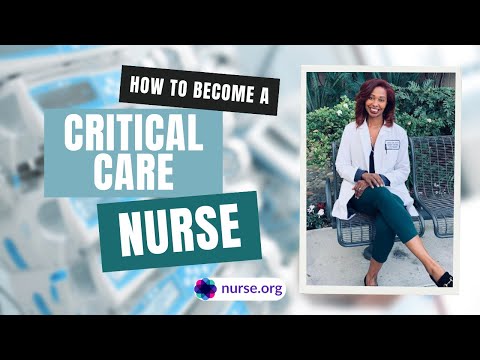 What is a Critical Care Nurse?
Critical care nurses provide care for patients ranging from newborn to geriatric who have one thing in common: they are in dire physical condition, suffering from life-threatening medical conditions or injuries. In their role, these professionals apply highly specialized technical skills, assessing and monitoring their patients' conditions in order to help restore them to health. In addition to providing hands-on bedside care, critical care nurses are also their patients' advocates -- speaking for, or representing, them when necessary.
Because the patients they care for have such acute needs, most critical care nurses work with only one or two patients at a time and generally work in tandem with a team of healthcare professionals that includes physicians, other nurses, and allied health care professionals.  
What Do Critical Care Nurses Do?
In the course of their daily job responsibilities, critical care nurses provide one-on-one care to patients who have suffered serious illness or injury. They provide all typical bedside care, with the enhanced responsibilities that are inherent with vulnerable patients who are suffering from extremely acute conditions. Their responsibilities include problem-solving and making quick decisions, as well as tasks such as:
Assessing patients as they are admitted to the critical care unit to identify their needs and create an appropriate care plan
Diagnosing patient illnesses and injuries
Monitoring, recording, and evaluating vital signs including heart rate respiratory rate and body temperature
Tracking the operation and output of life support equipment including heart monitors
Cleaning and bandaging wounds
Administering medications orally, through injection, via an intravenous or gastric tube or through other methods depending upon the patient's needs and condition
Infusing blood products
Monitoring patients for reactions to medication
Responding to changes in the patient's condition
Collaborating and communicating with other members of the care team
Providing education and guidance about the patient's condition and care needs to both the patient and their family and caregivers
Acting as an advocate for the patient
Assisting families as they make important decisions regarding life support and end-of-life issues
Addressing the patient's body after death, including making arrangement for transport to the morgue, hospital or burial facility
Patients who are in critical care settings are experiencing physical and emotional stress, and so are their family members. Critical care nurses require understanding, patience, and empathy in the face of heightened emotions, and are frequently called on to act with compassion when family members and loved ones are grieving. They also must face their own emotions in the face of patients who die or end up in debilitating conditions.
What is the Average Salary of a Critical Care Nurse?
According to Salary.com, critical care nurses earn an average of $82,053, but their earnings are dependent upon geographic location, experience, education, and more. 
Critical care nurses who work in major metropolitan areas such as Los Angeles, California, can earn more than $100,000 per year, and significant increases in compensation come with additional professional experience. 
Beyond their salary, critical care nurses are generally offered attractive benefits and perks, including paid vacation time and sick leave, personal ties, and coverage for health, dental, vision, and prescription insurance. Facilities in competitive markets may also offer childcare and tuition reimbursement as well as the opportunity to earn additional income by working overtime hours or shift differentials. 
How Do You Become a Critical Care Nurse?
Critical care nurses possess a combination of knowledge, skills, experience, and compassion. They must be able to make decisions on behalf of their patients quickly and with confidence, and this level of competence begins with their education. 
The total timeline expected for becoming a critical care nurse is:
2-5 years to earn an ADN, BSN, or MSN degree
Pass NCLEX-RN exam
2 years working in clinical patient care
Step 1: Become a Registered Nurse
Begin by becoming a Registered Nurse, and though this can be achieved by earning an Associate Degree in Nursing, most facilities today require a minimum of a Bachelor of Science in Nursing and prefer that candidates have their Master of Science in Nursing. After earning this degree, they will be required to pass the NCLEX-RN in order to receive licensure and work in the United States.
Step 2: Gain Experience
Then, you'll need to work for at least two years, preferably with a wide range of patients, in order to ensure their comfort with a diverse range of conditions as well as their competence with critical thinking, problem-solving, and communication.
Step 3: Get Certified
Nurses who wish to establish themselves as specialists in critical care can demonstrate their knowledge by working in and demonstrating knowledge within several areas and pursuing certifications offered by the American Association of Critical Care Nurses. These include:
CCRN (Adult, Pediatric or Neonatal), providing direct care to critically ill patients
CCRN-K (Adult, Pediatric or Neonatal), influencing but not providing direct care to critically ill patients
CCRN-E (Adult), providing care for ill patients from a remote location
PCCN-K (Adult), influencing but not providing direct care to critically ill patients
CMC (Adult), providing care to critically ill cardiac patients
CSC (Adult), providing care to critically ill cardiac surgery patients
ACNPC-AG (Adult-Gerontology), providing care for very sick geriatric patients
What are the Continuing Education Requirements for Critical Care Nurses?
Critical care nurses who have earned specialty certifications can demonstrate their dedication to excellence in their fields through the renewal of those certifications. These certification renewals are offered by the American Association of Critical-Care Nurses, and each has its own specific requirements. All encompass a broad range of learning topics and activities and require completion of Continuing Education Recognition Points in different categories of study and clinical practice hours spent working with acutely critical patients. Read more about continuing education requirements for nurses here. 
What is the Career Outlook for Critical Care Nurses?
In light of the national nursing shortage, nearly every type of nursing position is seeing tremendous demand, and critical care nursing is no exception. In fact, critical and acute care nursing sees a significant share of those currently in the workplace leaving the specialty area for a variety of reasons, making the need for these professionals even greater. 
According to statistics provided by the Bureau of Labor Statistics, employment of registered nurses will grow by 6% between 2022 and 2032, and that growth is attributed to an increased emphasis on preventative care, increasing rates of chronic conditions, and the aging of the population. When you add to that the specific stressors driving critical care nurses to retire early, hospitals and other facilities are working hard to recruit additional staff.
Where Can I Learn More About Becoming a Critical Care Nurse?
Critical care nursing is both a demanding career and a rewarding one. Nurses who are interested in learning more about the profession are advised to start by investigating the resources available through the American Association of Critical-Care Nurses' website, where they can find information on clinical resources, continuing education, and the benefits of membership. Other organizations that support critical care nurses include the World Federation of Critical Care Nurses and the Society of Critical Care Medicine. 
You can also find articles of interest on the Nurse.org website, including:
From the first assessment of a newly arrived patient to providing end-of-life care, critical care nurses are an integral part of life-saving treatments and actions. They combine their education, empathy, experience, and skill to provide hands-on care for their patients' physical needs and support and comfort for their emotional needs. The high stress of the specialty provides even higher levels of reward.
Critical Care Nurse FAQs
What is a Critical Care Nurse?

A critical care nurse provides care for patients who are either recovering from a serious medical condition or procedure or who are in critical condition.

What does a Critical Care Nurse do?

Critical care nurses assess, monitor, and provide care for patients in extremely vulnerable conditions. They make essential decisions, administer medication, and operate life-support systems, as well as explain medical procedures and treatment to patients and their loved ones.

How much money does a Critical Care Nurse make?

Critical care nurse salaries vary greatly depending on geographic location, experience, education, and more. However, the national average salary for the position is $82,053, with a range of between $73,940 and $89,158.

What units are considered critical care?

Critical care settings within a hospital include the intensive care units, cardiac care, pediatric and neonatal intensive care units, step-down units following surgery, trauma, and burn units as well as emergency rooms. 

 How do I become a Critical Care Nurse?

Becoming a critical care nurse begins with earning an Associate's or a Bachelor's Degree in Nursing and passing the NCLEX to earn your registered nurse license. Then, you'll need at least two years of experience working as an RN. Earning a Master of Science in Nursing and certifications will make you a more competitive candidate for open positions.
RN
$70,000 - $90,000
Associate
Bachelors
Masters
Critical Care
Bedside