How to Become a Cardiac Nurse Practitioner
9 Min Read
Published September 22, 2023
Approximately every 39 seconds, an American will have a heart attack, according to the American Heart Association. Cardiac nurse practitioners are needed to care for these patients and their families. 
In this guide, you'll learn what a cardiac nurse practitioner does, how much they make, how to become one, and more. 
What is a Cardiac Nurse Practitioner?
A cardiac nurse practitioner is a specialized Advanced Practice Registered Nurse (APRN) who provides comprehensive care to patients who have been diagnosed with cardiac diseases. 
They care for patients with heart conditions that are structural or electrical, blood vessel diseases, and heart disease. In collaboration with other healthcare providers like physicians, they work to develop treatment plans for these patients.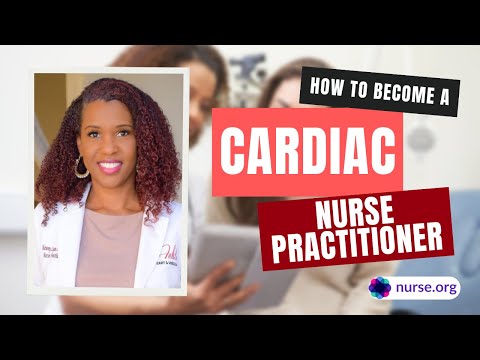 What Do Cardiac Nurse Practitioners Do?
Cardiac Nurse Practitioners perform a variety of skills generally related to the heart, blood vessels, and cardiac system, including conducting physical exams, prescribing medications, and counseling patients and families regarding their disease.
Specific day-to-day duties for a Cardiac NP may include:
Analyzing pathophysiology for various cardiovascular disease processes
Assessing patient risks for cardiovascular disease
Assisting with cardiac catheterization
Assisting with patients requiring ECMO
Conducting and interpreting stress tests
Conducting cardiac research
Consulting and collaborating with healthcare team members to assess, plan, implement, and evaluate patient care plans.
Consulting with cardiac patients and counseling on potential lifestyle changes
Designing treatment plans
Inserting central venous and arterial catheters
Monitoring postoperative cardiac patients
Ordering, performing, and interpreting diagnostic and laboratory tests
Preparing patients for surgery, procedures, and post-operative plan of care
Prescribing medications 
Cardiac Nurse Practitioner Specialities
Cardiac nurse practitioners can serve as generalists and cover all aspects of cardiac care, or they can further specialize in one of the following cardiac interventions, areas, or disorders:
Aortic aneurysms
Arrhythmias
Cardiac catheterization
Cardiac infections
Cardiac surgery
Congestive heart failure
Coronary artery disease
Myocardial infarctions
Valvular irregularities
Show Me Nurse Practitioner Programs
Where Can Cardiac Nurse Practitioners Work?
Cardiac NPs can work in a variety of locations, including:
Academia
Ambulatory care centers
Cardiac catheterization labs
Cardiac intensive care units
Community health centers
Coronary care units
Electrophysiology practice
Emergency room
Extended care facilities
Government agencies
Health department
Home care agencies 
Hospice
Hospital
Outpatient cardiac rehabilitation clinic
Palliative care
Private practice
Public health centers
Veterans' facilities
Cardiac Nurse Practitioner Salary
According to the Bureau of Labor Statistics, the median pay for nurse practitioners in 2022 was $121,610 per year. The BLS does not differentiate between different types of Nurse Practitioners, but Glassdoor.com reports an average salary of $149,395 per year for Cardiac NPs. 
Highest Paying States for Cardiac Nurse Practitioners
 The BLS reports that in May 2022 the highest paying states for nurse practitioners were:
California - $158,130 per year
New Jersey - $143,250
Massachusetts - $138,700
Oregon - $136,250
Nevada - $136,230
Cardiac Nurse Practitioner Salary by Years of Experience
According to payscale.com, cardiac NPs can earn a higher annual salary with increased years of experience.
Less than 1 year of experience earn an annual wage of $100,227
1 to 4 years of experience earn an annual wage of $99,227
5 to 9 years of experience earn an annual wage of $105,004
10 to 19 years of experience earn an annual wage of $113,837
Over 20 years of experience earn an annual wage of $111,407
Show Me Nurse Practitioner Programs
How to Become a Cardiac Nurse Practitioner
If you want to become a cardiac nurse practitioner, you'll need to first become a registered nurse, then advance your education with either a master's or doctorate level nurse practitioner program, and finally, earn your certification in cardiology. 
Step 1: Graduate from an accredited nursing program
Step 2: Become a Registered Nurse by passing the NCLEX examination
Step 3: Gain at least 2-3 years of relevant cardiology nursing experience
Step 4: Earn your NP from an accredited nursing program
Step 5: Become a certified NP after passing your national examination
Step 6: Earn a post-NP certification specializing in cardiology
Step 7: Obtain a position as a Cardiac NP
How Long Does it Take to Become a Cardiac Nurse Practitioner?
Conservatively, it takes eleven years to become a Cardiac NP.
Four years to earn a BSN
A minimum of two years of bedside cardiac experience
Three years to earn a Cardiac NP degree
Two years of a cardiac NP fellowship
Becoming board certified takes two years after completion of a cardiac NP program. A cardiac fellowship is not required but many top hospitals and cardiac programs will find ideal candidates with fellowships. 
Cardiac Nurse Practitioner Programs
Duke University and the University of South Alabama offer specialty programs for nurses interested in cardiology.
These programs are ideal because the didactic information and clinical rotations are specific to cardiology. This provides the first-hand experience needed to care for this specific group of patients.
The Mayo Clinic's School of Health Sciences in Arizona also offers an exclusive cardiology nurse practitioner fellowship. 
1.) Duke University
The cardiac program at Duke University is considered one of the best in the country.
According to the website, the curriculum includes three specific cardiovascular courses integrated within the nurse practitioner major, provides 168 hours in the cardiovascular setting, and clinical experiences available at the Duke cardiovascular faculty in the Duke Heart Center.
2. University of Southern Alabama
The University of Southern Alabama offers a  cardiovascular subspecialty that can be added to some of their other MSN or DNP specializations, or can be earned as a post-graduate certificate. 
In this subspecialty, you'll take the following classes:
Dysrhythmias and the Heart 
Foundations of Cardiac Care for the APN 
Diagnosis and Management of Acute CV Disorders
Diagnosis and Management of Complex CV Disorders
3. The Mayo Clinic School of Health Sciences in Arizona 
The Mayo Clinic School of Health Sciences in Arizona offers a cardiology nurse practitioner fellowship to two students each year.  
According to the website, "the program provides mentored clinical experience in all aspects of adult cardiovascular disease management, including cardiovascular diagnostics, cardiac health and performance, interventional cardiology, vascular disease, electrophysiology, structural heart disease, advanced heart disease failure, cardiac transplantation, adult congenital heart disease, and cardiothoracic surgery. Rotations may occur in the inpatient or outpatient setting."
Show Me Nurse Practitioner Programs
Cardiac Nurse Practitioner Certification
The American Board of Cardiovascular Medicine Inc. offers the Cardiac Nurse Practitioners Level IV (CVNP-BC) examination to qualified individuals. This is the only certification exam for cardiac NPs. 
Cardiac Nurse Practitioner Certification Exam Eligibility
In order to be eligible for the CVN-BC examination, you'll need to meet the following eligibility requirements:
Current, active, unencumbered license as a registered nurse in the US, its territories, or Canada
Graduate degree from accredited nurse practitioner program with concentration in adult (primary or acute), family (across the lifespan), gerontology, or women's health
Minimum of two years cardiac experience
What is the Career Outlook for a Cardiac Nurse Practitioner?
According to the U.S. Bureau of Labor Statistics (BLS), the career outlook for NPs is excellent. From 2022 to 2032 there's expected to be a growth rate of 38% for the profession.
According to the Centers for Disease Control and Prevention (CDC), heart disease is the leading cause of death for men, women, and people of most racial and ethnic groups in the United States. One person dies every 36 seconds in the United States from cardiovascular disease and about 655,000 Americans die from heart disease each year—that's 1 in every 4 deaths.
The need for cardiac NPs will only continue to grow. As more and more Americans are diagnosed with cardiac disease, Nurse Practitioners will be needed to care for these patients. Cardiac patients are complex and require extensive care and cardiac NPs can help fill the void between cardiologists and patients. 
Show Me Nurse Practitioner Programs
What are the Continuing Education Requirements for a Cardiac Nurse Practitioner?
CEU hours will vary based on the state of licensure. For each state an individual is licensed, CEU hours will be required. Generally, NPs are required a minimum of 75 contact hours of continuing education in the specialty area (cardiology). 
Board-certified Cardiac NPs can utilize continuing education hours for both the certification renewal and NP renewal. It is important to confirm with the state board of nursing to determine the specific number of hours required for renewal. 
Additionally, even though they are functioning in an APRN role, they must maintain their RN certification.  In order for an individual to renew their RN license, they will need to fill out an application, complete a specific number of CEU hours, and pay a nominal fee. Each state has specific requirements and it is important to check with the board of nursing prior to applying for license renewal.
A detailed look at Continuing Nurse Education hours can be found (here). 
Where Can I Learn More About Becoming a Cardiac Nurse Practitioner?
Other Nurse Practitioner Specialities
$100,000+
Masters
Doctorate
Cardiac
Bedside
NP