Considering a career as an Aesthetic Nurse Practitioner? You're not alone! The generous salary, regular hours and comparably less stress than many other nursing specialties make it a really popular choice. And, it has the added benefit of potentially allowing you to own your own medical aesthetics practice, depending on the state you work in.
While all nurses are dedicated to improving the quality of life and health of their patients, Aesthetic Nurse Practitioners specifically focus on improving their patient's appearance. In doing so, they provide a medical service that can make a significant difference in how patients feel about themselves and in the image that they project to the world. 
A career as an Aesthetic Nurse Practitioner has a lot to offer. This guide will help you figure out if it's the right path for you!
Part One What is an Aesthetic Nurse Practitioner? 
Aesthetic Nurse Practitioners are Nurse Practitioners who specialize in cosmetic medical procedures that improve their patients' appearance. 
Whether they are working collaboratively with physicians or independently in their own practice, they work directly with their patients:
Consulting with them about their concerns and questions
Providing information about the options available for elective procedures 
Performing those procedures 
There are many quality-of-life advantages to a career as an Aesthetic Nurse Practitioner, including being able to work autonomously in your own practice, having the chance to establish one-on-one relationships with patients, and not having to face on-call or emergency schedules.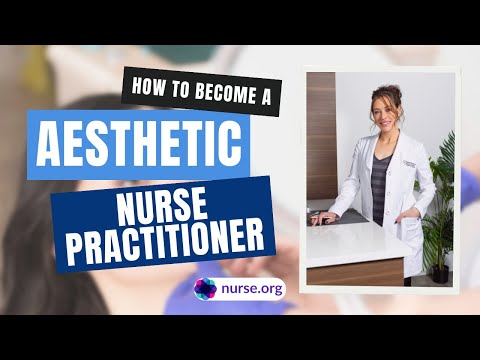 Part Two What Do Aesthetic Nurse Practitioners Do? 
Aesthetic Nurse Practitioners examine and evaluate patients, counsel them on a variety of procedures, perform those procedures, and care for them as they recover. 
Depending on where they work, they may also be responsible for many other day-to-day aspects, particularly if they are running their own practice.  
If an Aesthetic Nurse Practitioner works as a staff member for a dermatologist or plastic surgery practice, they will:
Work collaboratively with physicians
Assist in performing surgeries
Oversee patient education and recovery
Administer procedures 
The clinical procedures that Aesthetic Nurse Practitioners can perform or oversee include: 
Injections of dermal fillers or Botox to improve the appearance of crows' feet and wrinkles, to make lips look fuller and to counter the effects of aging
Sclerotherapy procedures to eliminate varicose veins through the injection of a solution into the veins
Laser skin treatments such as microdermabrasion, photo facials, and tattoo removal
Where Do Aesthetic NPs Work?
Aesthetic Nurse Practitioners generally work in private settings rather than in hospitals. These may include medical spas or private practice clinics alongside aesthetic nurses.
Some Aesthetic Nurse Practitioners even own and operate their own Cosmetic Clinics. Nurse.org has an awesome interview about Tatyana Melnik, MSN, APRN on what it's like to own a cosmetic clinic as a nurse practitioner.  
How Many Hours Do Aesthetic Nurse Practitioners Work?
Aesthetic procedures, including surgical procedures, are almost entirely scheduled during regular working hours on an outpatient basis. 
Show Me Nurse Practitioner Programs
Part Three Aesthetic Nurse Practitioner Salary 
In addition to being a great career, you also have the ability to earn a high salary as an Aesthetic NP. The BLS reports that Nurse Practitioners earn a median salary of $121,610 as of May 2022. While they don't have specific salaries for Aesthetic NPs, according to ZipRecruiter, the average Aesthetic Nurse Practitioner salary is $114,937 per year.
Highest-Paying States for Aesthetic Nurse Practitioners
According to the BLS, these are the highest-paying states for all nurse practitioners, which includes aesthetic NPs.
California - $158,130 per year
New Jersey - $143,250
Massachusetts - $138,700
Oregon - $136,250
Nevada - $136,230
Highest-Paying Cities for Aesthetic Nurse Practitioners
According to the BLS, these are the U.S. cities where NPs can earn the highest salaries.
San Jose-Sunnyvale-Santa Clara, CA  - $199,630
San Francisco-Oakland-Hayward, CA - $190,070
Napa, CA - $189,190
Vallejo-Fairfield, CA  - $180,990
New York-Newark-Jersey City, NY-NJ-PA  - $170,320
>> Related: Aesthetic/Cosmetic Nurse Salary 2023
Part Four How to Become an Aesthetic Nurse Practitioner
If you want to become an Aesthetic Nurse Practitioner, you'll need to complete the following steps. 
Earn Your Registered Nurse Degree

Becoming an aesthetic/cosmetic nurse begins with a registered nurse degree, which can be gained through either a two-year Associate's Degree in Nursing (ADN) or a four-year Bachelor of Science in Nursing (BSN) degree. 

Pass the NCLEX-RN

Once a nurse has earned their RN degree from an accredited nursing program they will need to pass the NCLEX-RN exam to become licensed in their state. 

Advance Your Education

In order to become an Aesthetic Nurse Practitioner, you'll need to earn either an MSN or DNP from an accredited Nurse Practitioner program. 

Gain Experience 

Upon graduation, most Nurse Practitioners who are interested in becoming Aesthetic Nurse Practitioners spend time training with dermatologists or plastic surgeons in order to perfect their skills. 

Get Certified 

Aesthetic nurse certifications are not required, but they do demonstrate a dedication to the field. These certifications are available through the Plastic Surgical Nursing Certification Board. 

There are also courses available from the American Aesthetic Association, the American Association of Aesthetic Medicine and Surgery, and the International Association for Physicians in Aesthetic Medicine.
Part Five What is the Career Outlook for Aesthetic Nurse Practitioners? 
Careers in Medical Aesthetics are growing rapidly as the popularity of medical spas and procedures to enhance appearance enjoy continued popularity. 
According to Surgery.com, the growing desire among both women and men to counter the effect of aging on their appearance is driving the aesthetics professions to new heights. While the BLS doesn't have data around aesthetic NPs specifically, the expected employment growth of nurse practitioners is 38% from 2022 to 2032. 
Part Six What are the Continuing Education Requirements for an Aesthetic Nurse Practitioner? 
At this time there is no certification program available to confirm an Aesthetic Nurse Practitioner's credentials, so continuing education requirements will be restricted to those required by the individual state in which a Nurse Practitioner practices.
For a listing of each state's Nurse Practitioner continuing education requirements, click here. 
Show Me Nurse Practitioner Programs
Part Seven Where Can I Learn More About Becoming an Aesthetic Nurse Practitioner? 
The field of aesthetics allows Nurse Practitioners to provide direct patient care while exercising their creativity, and in some states, Aesthetic Nurse Practitioners can open their own medical spas and be entirely autonomous. 
For more information about how to enter this exciting career, support and resources are available through:
The American Association of Nurse Practitioners
The Plastic Surgical Nursing Certification Board
The American Aesthetic Association
You can also learn more about aesthetic/cosmetic nursing through Nurse.org! Check out our other related articles:
Part Eight Aesthetic Nurse Practitioner FAQs
How long does it take to become an Aesthetic Nurse Practitioner?

Currently, there are no programs dedicated specifically to becoming an Aesthetic Nurse Practitioner, so those interested in the position start by following the path to becoming a Nurse Practitioner and then take additional classes or pursue on-the-job training to learn the specific skills needed for the career. 

How much do Aesthetic Nurse Practitioners make per hour?

The average hourly wage for an Aesthetic Nurse Practitioner in the United States is $47.92 per hour. The average annual salary is $85,360 according to Payscale.com.

Can Aesthetic Nurse Practitioners own their own practice?

Many states permit Aesthetic Nurse Practitioners to own their own practices. These are considered Full Practice States, where Nurse Practitioners are able to evaluate patients and initiate and manage treatments without the supervision or oversight of a physician. Reduced Practice and Restricted Practice states restrict this ability.
Part Nine Other Nurse Practitioner Specialities
*Indicates an affiliate link. At no additional cost to you, Nurse.org may earn a commission if you click through and use this service.
$100,000+
Aesthetic/Cosmetic
Masters
Doctorate
Non-Bedside
NP