How to Become an Acute Care Nurse Practitioner
13 Min Read
Published September 25, 2023
What is an Acute Care Nurse Practitioner?
Acute Care Nurse Practitioners (ACNPs) are advanced practice registered nurses that provide care to patients in acute care and/or hospital settings. This type of advanced practice provider is different from a Primary Care Nurse Practitioner. 
ACNPs see patients when they are sick, admitted to the hospital, or after a surgical procedure and/or trauma. Their focus is solely on caring for the adult population (young, middle, and older adults, ages 13 and older) with complex diseases.
Many nurses have a long-term career goal of becoming a nurse practitioner, but what kind of nurse practitioner to become is a decision every nurse has to make. In this guide, we'll explain what an ACPNs does, how to become one, and hopefully help you determine if it's the right career path for you. 
>>Related: Top 4 Highest Paying Specialties for Nurse Practitioners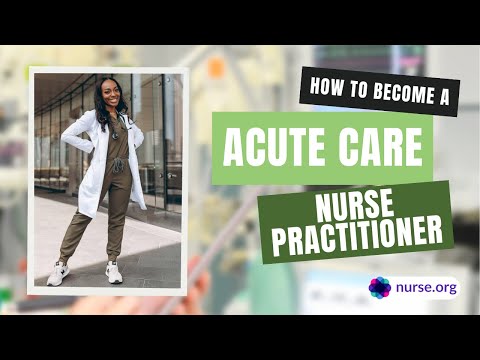 Why Are Acute Care Nurse Practitioners Important?
Acute care nurse practitioners provide essential urgent and critical care that significantly impacts the lives of their patients.
Many critically ill or injured patients require specialized care that ACNPs are specifically trained to provide. ACNPs also work alongside physicians, nurses, and other ancillary medical staff to provide immediate and ongoing assistance to patients.
What Does an Acute Care NP Do?
ACNPs provide care for everything from disease prevention to acute care management. Often, practitioners will continue to follow patients from the hospital setting to the outpatient setting.
Acute Care NPs specific duties include:
Order and interpret tests and laboratory values
Develop treatment plans
Collaborate with physicians and other specialists
Provide direct patient management from admission to discharge
Stabilize patients in critical care areas
Diagnosis of medical conditions
Assist medical team with bedside procedures
Develop follow-up care
Monitoring hospitalized patients and tracking progress
Setting patient goals to lead patients toward discharge
Collaborating with physicians to ensure patient care needs are met
Collaborating with discharge planners to ensure adequate placement and follow-up is arranged upon discharge
Prescribe medications
Provide education to patients and family
Intubation & extubation
Lumbar puncture
Casting and splinting injuries
Administering conscious sedation
Wound debridement
Performing incision and drainage
Place central venous catheters
Insert chest tubes
How Long Does it Take to Become an Acute Care NP?
Acute Care NP programs typically take 2-3 years depending on the specifics of the program and if they are full-time or part-time. Students can complete a program in as little as two years if they follow the full-time progression plan and are able to obtain clinical placements without delay. 
Since most will have to work during the program, students generally complete the program in three years. Ultimately, students have five years to complete the APRN program. Students can work during the didactic courses, but it is difficult and it is generally not recommended to work during the clinical portion of the program. 
Show Me Nurse Practitioner Programs
Acute Care Nurse Practitioner Salary
According to the Bureau of Labor Statistics (BLS), the average pay for nurse practitioners in 2022 was $121,610 annually or $58.47/hr. The BLS does not differentiate between different types of nurse practitioners, however, Glassdoor reports that the average ACNP salary in the U.S. is $141,333 per year. 
As with any employment situation, ACNPs should think about many factors when looking at any job offer, such as local cost of living and total benefits package including health and dental insurance, retirement benefits, and tuition reimbursement options. Search for positions in the location where you want to work to find out more about the specific Acute Care NP salary ranges in your area.
Highest Paying States for Acute Care Nurse Practitioners
The BLS reports that in May 2022, the highest paying states for nurse practitioners were:
California - $ 158,130
New Jersey -$ 143,250
Massachusetts- $ 138,700
Oregon - $ 136,250
Nevada - $ 136,230
Highest Paying Cities for Acute Care Nurse Practitioners
The BLS also reported that the top five metropolitan cities for nurse practitioner pay were:
San Jose-Sunnyvale-Santa Clara, CA: $199,630
San Francisco-Oakland-Hayward, CA: $190,070
Napa, CA: $189,190
Vallejo-Fairfield, CA: $180,990
New York-Newark-Jersey City, NY-NJ-PA: $170,320
How to Become an Acute Care NP
Step 1.) Earn your BSN
To become an ACNP, you must first have your Bachelor's Degree in Nursing (BSN). If you only have an Associate's Degree in Nursing (ADN), you must first obtain a bachelor's degree. This is a must before any graduate program can be started. 
If you're working as an RN with an ADN, there are two programs that would help you achieve your goals. They are an RN-BSN bridge program and an online BSN program. Each program has its own requirements and it's important to determine which programs you qualify for before applying. Furthermore, decide if you are a distance education learner or need hands-on classroom instruction.  
RN-BSN bridge programs are ideal for nurses who completed an ADN program or are diploma RNs and now need to further their education. 
Online RN-BSN programs are great for busy, working professionals. These programs allow the student to work when their schedule permits and can be completed at their own pace.
Step 2.) Complete an Acute Care Nurse Practitioner Program
For nurses that have a BSN, there are three types of Acute Care Nurse Practitioner programs offered both in-person and online: 
MSN-NP: One of the most common options for NP programs, the MSN-NP is for students who already have their BSN and enroll directly into the program at the graduate level. 

Basic requirements: Applicant must possess a BSN degree. 

DNP: Doctorate Nurse Practitioner programs allow students to receive their doctorate degrees while meeting the requirements to become an NP. The DNP is generally suited for nurses who plan on working more in an academic or research-based setting, 

Basic requirements: Applicant must possess a BSN degree.

Post-graduate certificate. If you have a graduate degree that is different from the area that you wish to specialize in now with your NP, you can search for a school that offers a post-graduate certification option to allow you to enroll directly in the program. 

Basic requirements: Post-grad certificate programs require you to either possess your Master's Degree of Science in Nursing (MSN) or have a Nurse Practitioner qualification in another specialty.
Show Me Nurse Practitioner Programs
Step 3.) Pass the Certification Exam
The American Association of Critical-Care Nurses offers board certification to acute care nurse practitioners. AACN Certification Corporation exams are accredited by the National Commission for Certifying Agencies.
Step 4.) Apply for an APRN License
After passing the certification exam, individuals must apply for an APRN license from the state board of nursing. Individuals can hold several state board licenses (similar to RN) but these can only be applied for after passing the initial board certification. Each state has different requirements regarding initial certification and recertification. It is important to check the state board of nursing website for additional information. 
What Schools Have the Best Acute Care Nurse Practitioner Programs?
According to our ranking algorithm, these are the top 5 ACNP programs for 2022. To see the full list and more details on each program, you can read the Top Acute Care Nurse Practitioner Programs for 2022. 
Specialties for Acute Care Nurse Practitioners
There are two entry-level advanced practice board certifications in acute care available for NPs: pediatric acute care and adult-gerontology acute care.
Acute Care Certified Pediatric Nurse Practitioner (CPNP-AC)
Acute Care Pediatric Nurse Practitioners can specialize in acute pediatric care. This specialty provides care for pediatric patients of adolescent age and younger with complex, chronic, and even critical care. 
CPNP-ACs work in conjunction with other clinicians and medical providers in various settings such as hospitals and clinics.
Some of the conditions that this specialty provides include young patients with: Organ dysfunction or failure
Traumatic injuries
Autoimmune illnesses
Life-threatening illnesses
Due to the nature of the patient population, CPNP-ACs work closely with parents and other family members to provide the highest standard of patient care possible.
Adult-Gerontology Acute Care Nurse Practitioner (CAGNP-AC)
Acute Care Adult-Gerontology Nurse Practitioners provide care for adults and geriatric patients who are seriously ill or experiencing other acute patient medical conditions. 
Both specialties provide care in acute care units, intensive care units, and trauma units in the hospitals. These specialties also often care for patients before and after surgery.
Show Me Nurse Practitioner Programs
What is an Acute Care NPs Scope of Practice?
ACNPs are granted the same rights as all other NPs throughout the country. Specializing doesn't exclude them from any of the laws for this profession. Because of where acute care NPs work, they often practice on their own with full practice authority.
In 25 states, nurse practitioners have "full practice authority" which means they do not have to work under the supervision of a doctor. Full practice states include Oregon, Maine, Alaska, Hawaii, Washington, and Iowa. Most recently New York granted NPs full practice authority. 
According to the American Association of Nurse Practitioners (AANP) full practice authority refers to, "State practice and licensure laws permit all NPs to evaluate patients; diagnose, order and interpret diagnostic tests; and initiate and manage treatments, including prescribing medications and controlled substances, under the exclusive licensure authority of the state board of nursing."
In states with reduced practice (Ohio, Pennsylvania, and Utah) and restricted practice (Texas, California, and Florida), NPs must have a medical doctor sign certain medical patient care decisions. NPs have prescriptive privileges in all 50 states and can administer controlled substances in 49 states.
Nurse Practitioners evaluate their patients holistically, including both the emotional and mental aspects of the patient's condition and not just the physical. For this reason, a great deal of time is spent on the education aspect of patient care.
CRNPs provide teaching and supportive counseling and refer patients and families as appropriate. They focus on health education, health promotion, and disease prevention.
Where Can Acute Care NPs Work?
Acute Care NPs can work in a variety of settings. They are most likely to work in an:
Emergency Room
Trauma Unites
Sub-acute units
Intensive Care Unit
Medical or Surgical Unit
Urgent Care Clinic
Operating Room
Outpatient or Inpatient Subspecialty Practice
Nursing home or skilled nursing facility
Show Me Nurse Practitioner Programs
What is the Career Outlook for Acute Care NPs?
According to the U.S. Bureau of Labor Statistics (BLS), the career outlook for NPs is excellent, with an expected 38% growth rate from 2022 to 2032.
While the BLS does not differentiate between the different types of NPs, acute care NPs will always be in need as the baby boomer generation continues to age. Furthermore, the National Center for Workforce Analysis (NCHWA) reported an estimated 20,000 primary care physician shortfall by 2025. Acute Care NPs will help fill this void. 
The idea of working independently of physicians is a great incentive for some people to move into the nurse practitioner career. In fact, the profession rates #1 as the best job in health care according to the U.S. News & World Report 2022.
Should I Become an Acute Care Nurse Practitioner?
If you aspire to help patients during some of the most stressful times of their lives and you perform well in stressful situations, becoming an acute care nurse practitioner might be a great career for you.
Acute care nurse practitioners work non-traditional hours due to the nature of the work, so if working weekends, nights, and holidays are ok with you, this career may also be a good fit. 
Some registered nurses may decide to advance their education as acute care nurse practitioners to take on more responsibility and make more money.
Acute Care Nurse Practitioner FAQs
What is acute care nursing practice? 

Acute care nursing practice involves RN and APRNs who are highly skilled and trained to care for very ill patients in acute care or hospital settings. Acute care patients generally have a severe illness, require surgical care, or have another serious medical condition.

What is the difference between acute care and primary care nurse practitioners? 

APRNs are different from primary care nurse practitioners because APRNs see patients when they are sick, admitted to the hospital, or are recovering after a surgical procedure or trauma. Primary care nurse practitioners assess a patient's health and administer preventive care to manage general conditions. Primary care NPs also work in a wide range of care settings such as hospitals, clinics, and private practices.

What is the highest-paid nurse practitioner? 

According to Indeed, the highest-paid nurse practitioner is a psychiatric nurse practitioner.  Indeed reports that this specialty earns an average annual income of $143,240.

Can an acute care NP intubate? 

Yes, an acute care NP can intubate patients as well as perform other procedures such as lumbar punctures, wound debridements, chest tube insertions, and placing central venous catheters.

What is the role of an acute care nurse practitioner?

Acute Care NPs see patients when they are sick, admitted to the hospital, or after a surgical procedure and/or trauma. This specialty is focused on managing complex diseases in adults.
Other Nurse Practitioner Specialties
$100,000+
Acute Care
Masters
Doctorate
Bedside
NP