How to Become a Sexual Assault Nurse Examiner (SANE)
9 Min Read
Published September 29, 2023
According to the Rape, Abuse & Incest National Network (RAINN), every 68 seconds, there is a sexual assault in the United States. Sexual Assault Nurse Examiners (SANEs) are the ones called to emergency rooms and urgent care centers to interview, collect evidence, and document the findings of these assaults. 
If you're feeling called to the nursing profession and think becoming a SANE nurse might be the right path for you, this guide will explain what a SANE nurse does, how to become one, how much they make, and give you a complete overview of what this career entails.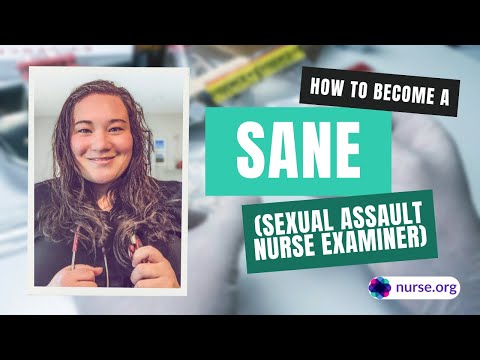 What Is a SANE Nurse?
A Sexual assualt nurse examiner (SANE) nurse is a highly qualified RN with specialized training and education to work with patients who have experienced sexual assault, abuse, or incest. They are considered a type of forensic nurse.
SANE nurses meet with victims of sexual assault and abuse to conduct a thorough forensic exam, as well as provide expert testimony in court when needed. 
This nursing specialty requires that you hold specific certifications for examining adults and pediatrics in the medical, psychological, and forensic examination of sexual assault victims. 
What Does a SANE Nurse Do?
SANE nurses perform a variety of specific tasks, including:
Perform emergent medical triage on patients
Perform and document sexual assault medical forensic interviews and exams
Provide emotional support
Assess the patient's emotional state to determine if further evaluation or treatment is necessary
Provide referrals to legal aid and advocacy groups
Offer to counsel or provide reference to a recommended counselor
Perform a complete medical forensic evaluation that includes: 

Administering prophylactic medications and emergency contraception
Assessing for mandatory reporting status and report when appropriate
Coordinating referrals for proper follow-up care as needed
Ensuring patient/medical record confidentiality at all times (HIPPA)
Performing trauma assessment with genital/anal examination
Obtaining photo documentation of bodily and genital-anal injuries with competent documentation
Testifying as a fact witness to any/all cases performed while contracted as a SANE

Obtain forensic specimen collection and supportive documentation, which includes:

Collecting urine samples
Noting any areas of injury, including bruising, bite marks, and scratches.
Obtaining swabs of the victim's cervix, rectum, vaginal or penile areas
Removing head hairs from the victim from various areas of the scalp for comparison.
Removing pubic hairs from the victim for comparison
Swabbing the victim's oral cavity 
Collecting blood samples
Taking a DNA sample from the victim for comparison
SANE Nurse Salary
According to the U.S. Bureau of Labor Statistics (BLS), the median salary for a registered nurse in 2022 is $81,220 per year or $39.05 per hour. However, pay varies depending on where you live as well as other factors.
Glassdoor found that SANE nurses earn an average annual salary of $90,840. SANE nurses earn more than non-specialized forensic nurses, with the average forensic nurse salary at just $72,659 per year.
Payscale.com does not identify SANE nurses specifically but rather groups SANE nurses with Forensic Nurses. They state that this nursing specialty can earn an average hourly salary of $35.00. 
How to Become a SANE Nurse
To become a SANE nurse, you'll need to complete the following steps:
Step 1: Attend Nursing School
You'll need to earn either an ADN or a BSN from an accredited nursing program to take the first steps to become a registered nurse. ADN-prepared nurses can complete an additional step of completing their BSN degree if they wish. 
Step 2: Pass the NCLEX-RN
Become licensed as a registered nurse by passing the NCLEX examination in the state where you wish to practice.
Step 3: Gain Experience at the Bedside
To be considered for employment as a SANE nurse, you must have at least two years of bedside experience.  
Step 4: Take a Sexual Assault Examiner Class
The International Association of Forensic Nurses (IAFN) states that the minimum requirement to practice as a SANE is completing a Sexual Assault Examiner Class. The class includes 40 hours of classroom training, along with 40 hours of clinical work.  
Step 5: Earn Your Certification
The IAFN offers certification for SANE nurses. The SANE-A (adult) and SANE-P (pediatric) certifications are available to those that meet eligibility requirements. Note, the requirements are the same for both certifications.
SANE-A and SANE-P Certification Eligibility Information:
Hold an active, unrestricted license as an RN in the United States or a US territory
Have a minimum of 2 years of experience as an RN
Have completed an adult/adolescent sexual assault nurse examiner education program that:

Grants a minimum of 40 hours of continuing nursing education contact hours from an accredited provider, or
Comprises a minimum of 40 hours of academic coursework or the national equivalent from an accredited educational institution, or
Grants a minimum of 64 hours of continuing nursing education contact hours from an accredited provider, or
Comprises a minimum of 64 hours of academic coursework or the national equivalent from an accredited educational institution

Have completed a sexual assault nurse examiner clinical preceptorship 
Have practiced as a sexual assault nurse examiner for a minimum of 300 hours within the past three years. At least 200 of those 300 hours must comprise SANE-related practice focused on the adult and adolescent patient populations
Where Do SANE Nurses Work?
SANE nurses generally work in emergency rooms and urgent care departments that assist with trauma and rape cases. Some hospitals have SANE nurses available 24/7; however, most SANE nurses are on call. 
Non-traditional settings that employ SANE nurses include:
Academia
Local government agencies
Non-profit organizations 
What is the Career Outlook for a SANE Nurse?
SANE nurses, like all nurses, are in high demand. According to the BLS, in 2022, there were 3,172,500 registered nurses in the United States. By 2032, there will be a need for additional 177,400 nurses, which is an expected growth of 6%. 
In addition to the ever-growing need for nurses throughout the country, the statistics regarding rape, abuse, and incest are astounding. Additional nurses are needed every year to manage patient care. SANE nurses work with each of these patients to gather evidence and perform the necessary tests. 
What are the Continuing Education Requirements for a SANE Nurse?
Generally, for an individual to renew their RN license, they will need to fill out an application, complete their state's requirement for continuing education (usually between 15-30 hours), and pay a nominal fee. Each state has specific requirements, and it is essential to check with the board of nursing before applying for license renewal.
If the RN license is part of a compact nursing license, the CEU requirement will be for the state of permanent residence. Some states require CEUs related to child abuse, narcotics, and pain management. 
According to IAFN, certification as a SANE requires a minimum of 45 continuing education hours every three years to maintain certification, including 30 hours of attendance at one of the following: 
Conferences
Conventions
Workshops
Seminars
Webinars
In addition, 15 hours of involvement in one of the following is mandatory:
Completion or instruction of SANE-related academic courses
Publication of a SANE-related article or chapter in a book, journal, or newsletter 
Presentation of SANE nursing content to professional or community groups
Poster Presentations of SANE-related topics
Precepting other SANE nurses
A detailed look at Continuing Nurse Education hours can be found here:
Resources for SANE Nurses
Check out these additional resources for more information on SANE nursing:
SANE Nurse FAQs
How long does it take to become a SANE Nurse?

It takes at least four to six years to become a SANE nurse. Individuals must graduate from an ADN or BSN program (which take 2 or 4 years respectively) and pass the NCLEX-RN exam for licensure. After two years of nursing experience at the bedside, nurses can take the IAFN Sexual Assault Examiner Class.
Is SANE nursing a good career?

SANE nursing is a good career and will continually be needed as the number of sexual assaults increases across the country. SANE nurses are needed for ongoing education, testifying in criminal cases, and providing support to victims of sexual assault.  

What skills do you need to be a SANE nurse?

Analytical skills and basic evidence gathering
Compassion and empathy
Ability to stay level headed in emotional or high-stress situations
Basic clinical skills
Communication skills
$70,000 - $90,000
Associate
Bachelors
Forensics
RN
Bedside
SANE