Types of Master's in Nursing (MSN) Degrees & Specialties
Are you considering getting your master's in nursing? A Master of Science in Nursing (MSN) degree can open the doorway to more opportunities for you as a nurse, from leadership positions to advanced clinical roles, as well as a higher salary! 
If you've been thinking about advancing your degree, now's the time! Read on to explore all the different types of master's degrees in nursing and specialty paths you can take.
Types of Master's in Nursing Degrees
There are several types of master's degrees in nursing: Advanced Practice Registered Nurse degrees prepare a Registered Nurse for an advanced clinical role. Other types of MSN degrees focus on preparing nurses for non-clinical roles such as public health or nursing informatics.
Nurse Practitioner (NP) -- $
122

K/year

Nurse Practitioners work to provide advanced care to different patient populations; they can independently assess, diagnose, treat, and prescribe medication.

Salary: The median average Nurse Practitioner salary is $121,610 per the BLS, but salaries vary by specialty, as well as other factors like location, years of experience, and where you work.

Specialties: Much like a doctor can specialize in virtually any type of medical care, an NP can choose a specialty track with the corresponding certification to become an expert in his or her field.

Some courses will allow you to specialize in your chosen field through your degree program, while others will have you become a general practitioner and then take an additional certification course to specialize. 

>> Click to See Nurse Practitioner Programs
Nurse Practitioner Specialties & Avg Salaries
Clinical Nurse Specialist (CNS) -- $106K/year
Clinical Nurse Specialists (CNS) serve as clinical experts in one specialty field, such as geriatrics or acute care. A CNS can provide care and act in more of a consulting role for advanced practice.
Salary: ZipRecruiter reports an average salary of $106,407 for CNSs.
Certified Registered Nurse Anesthetist (CRNA) -- $
203

K/year

Certified Registered Nurse Anesthetists assess patients before administering anesthesia, monitor and adjust medication flow during the time the patient is under anesthesia, and provide post-anesthesia recovery. CRNAs can work in a variety of settings, from the hospital to surgical clinics, and may work in a medical or oral surgeon field. However, as of 2022, CRNA programs are now required to be doctorate degrees, not master's.

Salary: One of the highest-paid APRN roles, CRNAs earn a median average annual salary of $203,090, according to the Bureau of Labor and Statistics as of 2022.
Certified Nurse Midwife (CNM) -- $121K/year
Certified Nurse-Midwives are practitioners who provide complete pre and post-natal care, along with labor and delivery services and women's health care. CNMs can work in an office setting, at a hospital or birth center, or in private practices. 
Salary: According to the Bureau of Labor Statistics, the median average Certified Nurse-Midwife salary is $120,880 as of May 2022.
Public Health -- $67K/year
With a Public Health degree, a nurse may pursue a track that is focused on broad public health goals, such as healthcare policy, population, or community health. A Public Health Nurse may complete population studies, perform research, analyze outcomes, and provide education and advocacy for public health goals. They may work at the state or local level on infectious diseases and provide nursing interventions like disease prevention and health promotion.
Salary: According to Indeed, the average salary for Public Health Nurses is $67,290 per year or $28.88/hour.
Show Me Public Health Programs
Nurse Educator -- $78.5K/year
As a Nurse Educator, you will be responsible for educating the next generation of nurses, both at the clinical and classroom levels. Nurse educators can conduct research, present at conferences, consult, and publish academic pieces to keep up-to-date on healthcare developments in the nursing profession continually.
Nurse educators can work in a variety of settings and may have some flexibility in their schedules as well. If you are interested in becoming a nurse educator at the collegiate level, you'll need to enroll in a nurse educator program.
Salary: According to the BLS, the mean annual salary for nurse educators in post-secondary universities is $78,580 as of May 2022.
Show Me Nurse Educator Programs
Clinical Nurse Leader (CNL) -- $104K/year
Clinical Nurse Leaders (CNLs) deliver and supervise bedside care and work with other team members to assess and improve clinical care. After earning your MSN, it's recommended that nurses also become certified through the Commission on Nurse Certification as a CNL.
Salary: According to ZipRecruiter, Clinical Nurse Leaders earn an average annual salary of $104,107.
Nursing Informatics -- $100K/year
In this role, nurses work in an intersection between technology and nursing. An Informatics nurse could do things like consult on new technology systems, analyze and build data systems to reach healthcare goals, or write computer programs.  
Salary: The HIMSS 2017 Nursing Informatics Workforce Survey found that 46% of respondents earn base salaries of more than $100,000 each year.
Show Me Nursing Informatics Programs
Nurse Administrator or Executive -- $105K/year
This track—also known as Nurse Leadership—prepares a nurse to manage a team of other nurses and/or healthcare members. A Nurse Administrator, sometimes referred to as a nurse manager or executive, may serve as a unit manager, for instance, or in even more expanded leadership roles. Additional advanced certifications for Nurse Administrators and Executives are available as well. 
Salary: According to the U.S. Bureau of Labor Statistics (BLS), the median annual salary for medical and health services managers is $104,830 as of May 2022.
Show Me Nursing Leadership Programs
Nurse Researcher -- $81.5K/year
Are you fascinated by studies? A Nurse Researcher role might be right for you—in this track, nurses learn to perform, assess, analyze, and provide recommendations based on research. 
Salary: Payscale reports that Research Nurses earn an annual average salary of $81,500.
Show Me Nursing Research Programs
Dual Master's Degrees
You can also choose to pursue a dual degree to earn both your MSN and a concentration in another specialty. For example, according to the AACN 120, dual MSN degrees are available in the following specialties nationwide:
MSN/MBA — to combine nursing with business
MSN/MPH — a nursing degree with a public health degree (MSN/MPH)
MSN/MHA — nursing and health administration
MSN/MPA — nursing and public administration 
Show Me MSN Dual Degree Programs
Healthcare Administration Master's Degrees for Nurses
In addition to a Master of Science in Nursing (MSN) degree, nurses looking to pursue a master's degree also have the option of going the healthcare administration route. For nurses looking to move beyond the bedside or go into an administration or leadership role, this can be an excellent path to take.
The two primary healthcare administration master's degrees are:
An MBA in Healthcare Management focuses on general business leadership as well as healthcare administration while a Master's in Healthcare Administration (MHA) focuses on topics specific to healthcare, like understanding healthcare operations and functioning in a leadership role at an executive level. 
Earning an MBA or MHA are both excellent options; however, an MBA has a broader focus on the curriculum. An MBA in Healthcare Administration allows individuals to gain a better understanding of general business and financial practices rather than those specific to healthcare.
Types of Master's in Nursing Degree Programs
Now that we've dug into degree and specialization options for nurses wanting to earn a Master of Science in Nursing, let's talk about the different MSN program types.
Depending on where you're starting out, there are a lot of different ways to earn your MSN.
1. BSN to MSN Programs
Who is it right for? RNs that already have a BSN
If you're an RN who already holds a bachelor of science in nursing, this is the route for you. In a BSN to MSN program, you can continue on directly from your undergraduate degree into an MSN program or choose to work with your undergraduate degree while pursuing your MSN.
2. RN to MSN Bridge Program
Who is it right for? RNs who have an ADN or Diploma 
If you have your Associate's Degree in Nursing, or if you have a diploma RN, you can either earn your BSN and then apply to an MSN program, OR you can earn both your BSN and MSN at the same time, known as an RN-to-MSN bridge program.
These typically allow RNs to earn their MSN about a year sooner than the traditional route. The shortest RN to MSN online program is about 14 months long.
Who is it right for? Those with a non-nursing bachelor's degree
If you have a bachelor's degree in a different field, this type of program is designed for you. Rather than having to start from scratch and earn another bachelor's degree, this program allows you to jump right into your MSN degree. Perfect for any aspiring nurses who know they want to work as an APRN or other master's educated level nurse.
4.) Dual Master's Degree Programs
Who is it right for? Nurses who want advanced leadership or healthcare administration roles
If you know that you want to one day become a hospital CEO or a Chief Nursing Officer, you may want to consider a dual master's degree in nursing program. With these, you can earn an MSN at the same time as you earn a more leadership-focused degree like an MSN/MBA or an MSN/MHA -- Master's in Healthcare Administration. You can also earn an MSN/MPH if you want your career to take a public health route. 
Show Me MSN Dual Degree Programs
Why Should You Get a Master's Degree in Nursing?
MSN programs prepare Registered Nurses to serve their patients from a holistic perspective. Graduate-level nursing courses will cover topics such as ethics, public health, leadership, healthcare practice, and clinical skills.
One of the major benefits of an MSN degree is that not only does it offer more advancement opportunities and earning potential, but it also allows you to specialize in a role and/or patient population that interests you the most.
For instance, you can choose to specialize in a clinical specialty track as a Nurse Practitioner or choose a more administrative role, such as a Nurse Educator or Nurse Researcher.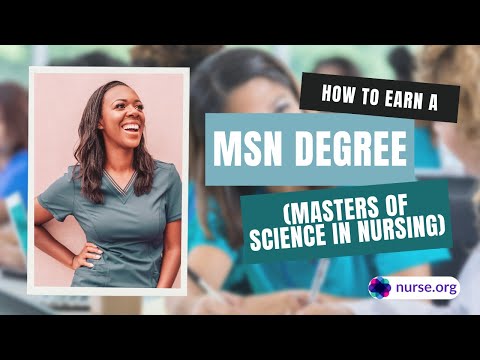 FAQs
Which nursing master's degree is best? 

If you want to advance your career clinically, an NP will be the best route. For teaching or administrative positions, an MSN will probably be best.

What is a master of nursing degree? 

A Master of Nursing Degree (MSN) is a non-clinical graduate-level degree that can prepare a nurse for a leadership or educational position. 

What master's can I do with a nursing degree?

You can do any master's program you'd like after earning your nursing degree. 

Can I get my MSN without my BSN? 

Yes. Many schools offer direct RN-MSN programs.

How many years is a master's in nursing? 

It takes 2-3 years to earn a master's in nursing.

Do MSN nurses get paid more than BSN nurses? 

An MSN-prepared nurse with a specialty role, such as a nurse manager or nurse educator, may make more than a BSN-prepared nurse. 

Do hospitals pay for your MSN? 

Some hospitals do offer tuition reimbursement or assistance for MSN degrees.