How to Become a Flight Nurse
7 Min Read
Published August 14, 2023
Flight nurses, also known as transport nurses, are registered nurses that are trained to provide medical care as they transport patients in either rotor (helicopter) or fixed-wing (plane) aircraft.
Flight nurses work with other trained medical professionals like paramedics and physicians to ensure patients are well-cared for during transit and reach their end destination safely. They are often called upon to help transport critically ill or injured patients to trauma centers. These specialized nurses provide comprehensive pre-hospital, emergency critical care, and hospital-level care either from the scene of an accident or while transporting inter-facility from hospital to hospital. They are often charged with the care of a vast scope of patient populations.
We spoke with flight nurse, Kelley Holdren, to find out more about this exciting specialty, including what it takes and all the reasons to pursue it. As a flight nurse, Kelley Holdren has helped many people survive the worst days of their lives. Because patient transport usually occurs in emergency situations or acute trauma, most of Holdren's patients have been in life-or-death situations while under her care.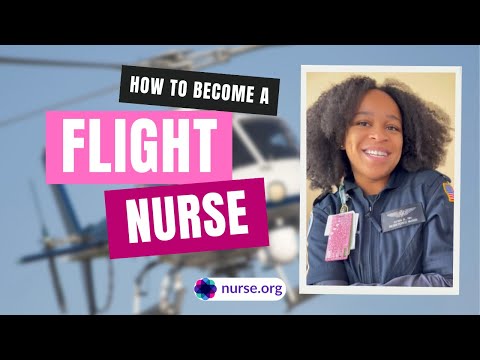 What Do Flight Nurses Do?
Flight nurses perform daily checks of aircraft and equipment with their partners. Daily duties can include cleaning the on-call rooms, cleaning out the office and refrigerator, washing aircraft, and checking all expiration dates of all equipment/medications. 
The crew will wait until they are requested for transport and then head out when that occurs. Training comes on the job, though some programs offer flight simulation training.
As a flight nurse, you do basically everything you'd do in an ER or ICU, but in a much smaller space and with fewer resources.
"The flight nurse must be very comfortable in all areas, calm, and able to critically think quickly and safely. They work in a very small space in extreme conditions," Holdren says. "We make sure they are completely ready before turning them loose on their own even if they come with flight experience." 
How to Become a Flight Nurse
If you want to become a flight nurse, you'll need to complete the following steps. 
1. Become a Registered Nurse
In order to become a flight nurse, you need to have earned your RN from an accredited program, and most employers require a minimum of a Bachelor of Science in Nursing (BSN). You'll also need to pass the NCLEX-RN.
2. Gain Experience in the ICU or ER
Typically the industry looks for 3-5 years of combined ICU/ER experience. When Holdren is looking for an applicant, she requires 5 years of combined ICU/ER experience.
Aspiring flight nurses should also be somewhat familiar with the basic aspects of navigation and flight.
3. Get Certified
Becoming a Certified Flight Registered Nurse (CFRN) from the Board of Certification for Emergency Nursing (BCEN) can be a great way to demonstrate competence in flight nursing to prospective employers. Visit the official CFRN-BCEN website for more information.
What is the Average Salary of a Flight Nurse?
ZipRecruiter reports that the average flight nurse salary is $81,093 per year or $39.00 per hour. Flight nurse salaries range from $64,000 to $99,000 with some making upwards of $105,000 annually.
What Personality Traits Should a Flight Nurse Have?
Being an adrenaline junkie helps, but more importantly, you must exhibit complete autonomy in your practice while still being able to admit when you're wrong.
A level of resourcefulness and being able to stay calm in chaotic situations is also recommended.
Career Outlook for Flight Nurses
Holdren says, "It's a very competitive and difficult field to get into but not impossible. That is why I always tell those who are interested to get the best, well-rounded experience before applying to make you a desirable candidate." 
Flight Nurse Jobs
"There are about 800 medical transport helicopters in the United States as part of hundreds of programs. Flight nurse positions can be found at various teaching/university hospitals and aviation companies that operate in many communities."
Other sites to look for programs/job openings are AAMS.org (Association of Air Medical Services) or ASTNA.org (Air and Surface Transport Nurse Association)
What Areas Can Flight Nurses Work In?
By far, most flight nurse jobs are in the United States, but there are also programs in Europe, Australia, and the Middle East. Each state in the U.S. is different, but many have multiple uses where there is an opportunity to apply. 
What Professional Organizations Are Available for Flight Nurses?
The ASTNA is an amazing organization that has been supporting all transport nurses and professionals for 35 years. The organization helps with advancing the practice of transport nursing and enhancing the quality of patient care through commitment to safety and education for its members. It helps with providing continuing education, resources, and support for this exciting nursing specialty.
Why You Should Become a Flight Nurse 
While many of the cases flight nurses take on are serious or even tragic, there are some rewarding times that make it all worth it.
"Many of my great days have to do with kids. We fly in an area where there are limited resources for our pediatric patients," she says. "While many of our referring facilities do an amazing job caring for kids, they often do not have the resources to continue to care for them."
There have been many times when she's entered into a referring facility that simply doesn't have the resources for advanced patient care. To be able to come in, start certain medications that weren't available or provide certain treatments/equipment that were not possible, and see improvement during the transport has been amazing.
"There is no greater feeling than knowing that you, as a flight nurse, with your team, made the difference in the outcome of that patient," she says.
"It's just an amazing role to be a flight nurse, to be able to make a difference in so many lives, never knowing who you may be picking up to transport, using your critical thinking skills, all while flying around the Chicagoland area. I couldn't ask for a better career or office," she explains.
FAQs
How many hours do flight nurses work?

This depends on where they work, but they can work 24 hr shifts and work 6 to 8 shifts a month.

Is being a flight nurse dangerous?

There are risks associated with flight nursing such as aircraft crashes, and environmental factors such as weather conditions.

Can an LPN be a flight nurse?

LPN's will need to become RNs in order to work as flight nurses. This can be done through an LPN-RN program.

What certifications do you need to be a flight nurse?

Certified Emergency Nurse (CEN) or the Critical Care Nurse (CCRN) as you wait to sit for your CFRN, Basic Life Support (BLS), Pediatric Advances Life Support (PALS), Advanced Cardiac Life Support (ACLS) and Transport Professional Advanced Trauma Course (TPATC)

Is there a weight limit for flight nurses?

Yes, most programs require that flight nurses weigh 250 pounds or less.
$70,000 - $90,000
Associate
Bachelors
Non-Bedside
RN