10 Easy Ways To Relieve Ear Pain From Face Masks
4 Min Read
Published April 13, 2020
From pigtails to paperclips, here's how nurses are managing ear breakdown from masks. 
As healthcare workers across the country are dealing with the frightening reality of caring for patients with dwindling PPE available to them, there is also another sobering challenge they are facing--the long-term, repeated use of PPE is breaking down their skin. Healthcare workers are struggling to figure out how to relieve ear pain from masks.
Especially for masks that are designed with loops that fasten around the ears, healthcare workers are experiencing increasing levels of skin breakdown. And just as nurses have been rising to the challenge of working with limited PPE and in near-impossible situations, it probably doesn't come as a surprise that they are also responsible for sharing the creative hacks that have been helping them adapt their PPE to prevent skin breakdown. 
There is even a group on Facebook, PPE Hacks for Healthcare, which is dedicated to helping healthcare workers fashion and adapt their own PPE when supplies are limited, or when they are faced with secondary problems from the PPE, such as ear breakdown. 
Here are some hacks for mask-induced ear pain and breakdown that you can try: 
How to Relieve Ear Pain From Masks
1. Sewed-On Buttons
As this nurse's Instagram post shows, some healthcare workers have taken to sewing specially-placed buttons onto their surgical caps so that they can fasten their face masks directly onto the buttons instead of their ears. Here's another example. You can sew your own buttons on if you're handy, or search for independent sellers, such as this Etsy shop that sells them. 
2. Low Pigtail Buns (aka "space buns")
If you're in a pinch or don't have access to caps or buttons, this idea has been shared widely for people who have longer hair--secure your hair into two low pigtail buns, then fasten the ear loops of the mask to your bun instead of your ears. 
Check out this look that @h_bly shared on Instagram.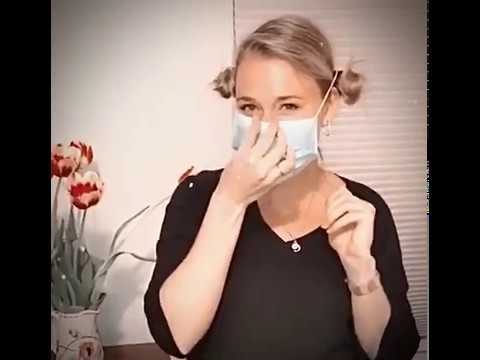 3. High Bun
Another healthcare worker required to wear a face mask shared that a high bun also works for the same purpose--she secures the ear loops over her hair at the top of her head. 
4. 3D Printer Face Shields
In the Hacks for Healthcare Facebook group, one member shared a plan for printing a face shield that features a spot to loop the ear bands so your ears get a break.
5. Band Connector
A UK company displayed its solution for securing the ear loops with a specially-made plastic connector that features multiple adjustment points for different sizes. 
6. Fabric Connector
Without an official plastic connector, you can also use fabric, string, or elastic to tie the ear loops and secure on the back of your head, like a surgical mask, instead. 
7. Headbands
The fabric headband company Ry-Bandz came up with this design, which has buttons on headbands to attach the mask to. Many other independent sellers on Etsy are offering fabric headbands with buttons as well. 
8. Cut an Old T-Shirt
This is probably one of the quickest ways to relieve ear pain - and, best of all - anyone with an old T-shirt can make it. 
9. Ear Savers
This former cookie baker transformed her business from making 3D printed cookie cutters to making mask extenders ear savers. Seriously, people are awesome. 
10. Paperclip
In a similar fashion, @fivenineandfine shared this #PPEHack on Twitter, using a paperclip to fasten the strings of the mask to the back of her head, bypassing her ears completely. 
Do you have more ideas to "save our ears?" - let us know on Instagram.