Kate Middleton Launches 'Nursing Now 2020 Campaign' - Reunites With Midwife
By Angelina Gibson
Kate Middleton is well into her third trimester but, that didn't stop her from visiting the Royal College of Obstetricians and Gynaecologists (RCOG) and St Thomas's hospital in London - where she officially launched the Nursing Now 2020 Campaign.
The Nursing Now 2020 campaign is aimed at raising the profile and status of the nursing profession worldwide. 
In the midst of it all, she ran into Midwife Jacqueline Professor Dunkley-Bent, who assisted with the delivery of Princess Charlotte. A video shows the two beaming as they share a warm embrace and friendly conversation. Middleton later thanked Professor Lesley Regan president of the RCOG  and mentioned, "it was so great to see Jacqui as well."
Dunkley-Bent, Head of Maternity, Children & Young People at NHS England, said, "it was a surprise and an absolute pleasure to be reunited with Kate again today. Supporting families at the birth of their baby — including future kings and queens — is hugely rewarding and we're very grateful to have the Duchess of Cambridge's support for the nursing profession."
Nursing Now Campaign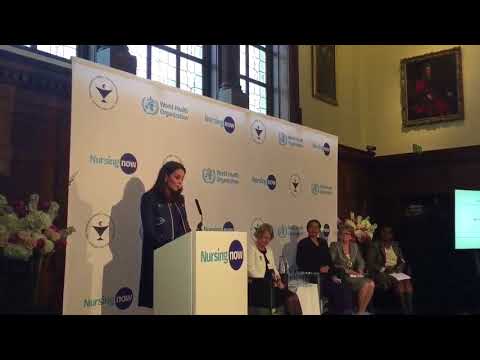 In a speech held later that day, Middleton pledged her support to nurses around the world by launching the Nursing Now Campaign. The Duchess also discussed her family lineage of nurses, her grandmother and great-grandmother were volunteer nurses.  
"This campaign means a lot to me personally. My great-grandmother and grandmother were both volunteer nurses," said Middleton. "They would have learned first-hand from working with the Voluntary Aid Detachment and the Red Cross about the care and compassion that sometimes only nurses can provide."
According to Middleton's speech 9 million nurses need to be trained worldwide by 2030 in order to keep up with global demand. 
"In simple terms, that's about 2,000 more new nurses every day for the next 12 years," stated Middleton. "This shows that we must act now to support and develop nurses with the skills and talent to cope with future global health needs."
"Nurses are always there," said Middleton. "You care for us from the earliest years. You look after us in our happiest and saddest times. And for many, you look after us and our families at the end of our lives. Your dedication and professionalism are awe-inspiring."